10 Top Thrilling Safari Adventures in Zimbabwe
Welcome to the captivating world of Zimbabwe, where thrilling adventures and breathtaking landscapes await the intrepid traveler. Nestled in the heart of southern Africa, this diverse country is a playground for adrenaline junkies and nature enthusiasts alike.
From leaping off Victoria Falls Bridge to embarking on wild safari encounters, Zimbabwe offers a myriad of exhilarating activities that will ignite your spirit of adventure. Join us as we uncover the top 10 thrilling adventures that will leave you awe-inspired and craving for more in this insightful and engaging guide.
Amazing Thrilling Safari Adventures in Zimbabwe for an Adventurous Soul
1.    Victoria Falls Bungee Jumping:
Taking the Leap of a Lifetime Prepare for a heart-pounding experience as you are bungee jumping off the iconic Victoria Falls Bridge, standing on the edge of the majestic Victoria Falls. Plummet 111 meters into the roaring gorge below, surrounded by the sheer beauty and power of one of the world's most spectacular waterfalls.
2.    Zambezi River White Water Rafting:
Conquer the Rapids of the Mighty Zambezi Gear up for a wild ride as you navigate the exhilarating rapids of the Zambezi River. Brace yourself for a thrilling whitewater rafting adventure, where you'll battle roaring waves, conquer rapids of varying intensities, and soak up the awe-inspiring beauty of the river's dramatic gorge.
3.    Walking with Lions in Antelope Park:
Get up Close and Personal Embark on an extraordinary wildlife encounter as you walk side by side with lions in Antelope Park. Experience the exhilaration of being in the presence of these majestic predators while learning about their behavior, conservation efforts, and the importance of preserving Zimbabwe's incredible wildlife.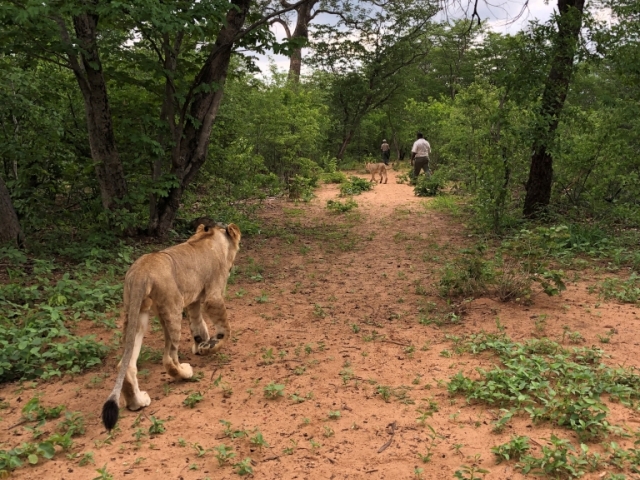 4.    Mana Pools Canoe Safari:
Paddle into the Heart of the Wilderness Embark on a multi-day canoe safari along the Zambezi River in Mana Pools National Park. Immerse yourself in the tranquillity of nature as you paddle through calm waters, encountering elephants, hippos, and a vibrant array of birdlife. This immersive adventure allows you to connect with the wild in its purest form.
5.    Hwange National Park Game Drive:
A Thrilling Encounter with the Big Five Embark on an adrenaline-fueled game drive through Hwange National Park, Zimbabwe's largest game reserve. Brace yourself for close encounters with the "Big Five" and a myriad of other wildlife species as you explore the untamed African wilderness.
6.    Matobo National Park Rock Climbing:
Scale the Granite Giants Challenge your climbing skills amidst the awe-inspiring granite rock formations of Matobo National Park. Feel the rush as you conquer towering peaks, navigate challenging ascents, and witness breathtaking vistas of the park's unique landscapes.
7.    Nyanga Skydiving:
Take the Plunge from the African Skies Unleash your inner daredevil with a skydiving adventure over the stunning Nyanga region. Feel the exhilaration as you freefall through the African skies, taking in panoramic views of mountains, lakes, and lush forests before landing with a triumphant rush of adrenaline.
8.    Great Zimbabwe Ruins Exploration:
Unearthing Ancient Mysteries Step back in time and explore the ancient ruins of Great Zimbabwe, a UNESCO World Heritage Site shrouded in mystery and history. Wander through the intricate stone structures, uncovering the secrets of an ancient civilization that thrived in this awe-inspiring archaeological wonder.
9.    Balloon Safari over the Zambezi Valley:
Soaring Above the African Wilderness Embark on a magical hot air balloon ride over the Zambezi Valley. Drift silently above the sprawling wilderness, witnessing stunning landscapes, spotting wildlife from a unique vantage point, and capturing breathtaking moments that will forever be etched in your memory.
10. Chimanimani Mountains Hiking:
Conquer the Rugged Peaks Challenge your hiking skills in the rugged beauty of the Chimanimani Mountains. Trek through lush forests, scramble over rocky terrain, and be rewarded with awe-inspiring views of towering peaks, cascading waterfalls, and untouched landscapes that seem to defy gravity.
Conclusion:
Zimbabwe is a treasure trove of thrilling adventures that beckons to the adventurous soul. From bungee jumping at Victoria Falls to exploring ancient ruins and embarking on wild encounters with lions and elephants, this captivating country offers a world of excitement.
So, unleash your inner explorer, immerse yourself in Zimbabwe's natural wonders, and let the adrenaline flow as you create unforgettable memories that will last a lifetime. Prepare to be exhilarated in the heart of southern Africa!
Please Follow us on Facebook, and Youtube Channel for more amazing insights and tips.