The Best East Africa Safaris and Holiday Experiences
Are you ready for an extraordinary adventure that will take you on a journey through the wild heart of Africa? Look no further than East Africa, a region renowned for its stunning landscapes, incredible wildlife, and diverse cultures.
From the vast savannahs of Kenya to the dense jungles of Uganda, the pristine beaches of Tanzania to the rolling hills of Rwanda, East Africa offers a unique and unparalleled safari experience that will leave you in awe.
Enjoy some of the Best East Africa Safaris and Holiday Experiences by booking a lifetime safari holiday to any of the East African safari destinations. Discover the beauty of the many hidden gems that unleash your inner self better than anything else.
Holiday Experiences in East Africa
Wildlife Wonder:
Get up close and personal with nature's marvels on thrilling game drives, guided walks, and wildlife conservation experiences. Imagine yourself standing on the plains of the Masai Mara in Kenya, witnessing the Great Migration, where millions of wildebeest and zebras cross crocodile-infested rivers in a dramatic display of nature's raw power.
Picture yourself trekking through the lush rainforests of Uganda and Rwanda, coming face to face with endangered mountain gorillas in their natural habitat, an encounter that will touch your soul and leave you with memories that will last a lifetime.
Exploring the vast spellbinding plains and sceneries of the Serengeti. In addition to the iconic Big Five (elephant, lion, leopard, buffalo, and rhino), East Africa is also home to other unique wildlife species such as the Masai giraffe, Grevy's zebra, and the endangered Rothschild's giraffe.
The region also boasts an incredible diversity of bird life, with thousands of species ranging from majestic birds of prey to colorful and rare species that are a treat for birdwatchers and nature enthusiasts alike.
These encounters with nature's marvels are extraordinary and will leave you with lasting memories that will stay with you forever. Wildlife is the prime attraction in East African and offers the Best East Africa Safaris and Holiday Experiences.
Cultural Immersion:
East Africa is also a melting pot of cultures and traditions that have shaped the region's history and identity. This is a highlight in an East African safari and offers the opportunity to meet the local communities and learn about their way of life.
Immerse yourself in the customs, traditions, and way of life of the Maasai warriors of Kenya, the Batwa pygmies of Uganda, and the colorful tribes of Tanzania and Rwanda.
Engage in cultural exchanges, participate in traditional dances, and savor authentic African cuisine for a truly immersive experience that will leave an indelible mark on your heart, captivate your senses and leave you with a deeper appreciation for the richness of human diversity.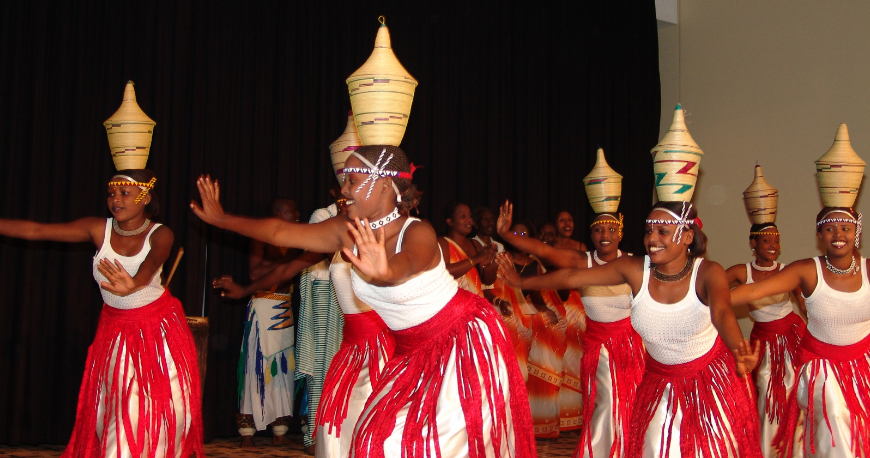 Adventure-Packed Destinations:
Beyond the wildlife and cultures, East Africa also offers a plethora of outdoor adventures for thrill-seekers.
You can go hot air ballooning over the savannahs, trek to the snow-capped peaks of Mount Kilimanjaro, hike through the lush rainforests of Uganda, or go whitewater rafting on the Nile River.
The opportunities for adrenaline-pumping activities are endless, and you'll create memories that will last a lifetime.
Breathtaking Landscapes:
The landscapes of East Africa are as diverse as its wildlife and cultures, offering awe-inspiring scenery. Marvel at the rolling savannahs of Kenya and Tanzania, trek through lush rainforests in Uganda, and explore the volcanic peaks of Rwanda.
Capture stunning sunrises over the Serengeti, discover hidden waterfalls and primates on rainforest hikes, or challenge yourself with a climb to the summit of Mount Kilimanjaro.
Simply enjoy the stunning vistas of savannahs, mountains, forests, and waterfalls that make this region a paradise for nature lovers and photographers. A dream come true for photographers as it offers the Best East Africa Safaris and Holiday Experiences and opportunities for them.
Sustainable Tourism:
East Africa is increasingly becoming a leader in sustainable tourism practices. Many safari lodges and camps are committed to eco-friendly practices, conservation efforts, and community engagement, ensuring that your visit contributes positively to the protection of wildlife, preservation of local cultures, and sustainable development of local communities.
Coastal Gems:
The coastal experience in Kenya and Tanzania is a combination of pristine beaches, crystal-clear waters, and a rich cultural heritage. Visitors can enjoy a range of activities such as snorkeling, diving, and fishing, as well as explore the vibrant local markets and historical landmarks.
The coastal region is also home to several national parks and reserves, where visitors can witness a diverse range of wildlife and marine life. Not so many places can offer coastal experiences, but the Best East Africa Safaris and Holiday Experiences one can have, is by visiting its beaches.
With its idyllic setting and warm hospitality, the coastal experience is a must-visit for anyone looking to relax, unwind, and immerse themselves in the beauty and culture of East Africa.
Warm Hospitality:
The warmth and friendliness of the East African people are legendary. You'll be greeted with smiles, warm welcomes, and genuine hospitality wherever you go.
You'll be greeted with smiles, warm welcomes, and genuine hospitality wherever you go, making your safari adventure in East Africa a truly heartwarming experience. This counts as one of the Best East Africa Safaris and Holiday Experiences one can have.
The local guides and staff at lodges and camps are knowledgeable and passionate about their land, wildlife, and cultures, and they will go the extra mile to ensure that you have a memorable and meaningful experience.
In conclusion
East Africa is not just a destination; it's an experience that will touch your soul and open your eyes to the world's wonders. It's a place where you can witness the cycle of life and the beauty of nature in its purest form, where you can connect with people from different walks of life and learn from their wisdom, and where you can push your limits and discover your inner adventurer.
So, pack your bags, put on your safari hat, and get ready for the journey of a lifetime. East Africa awaits, with its unique and diverse offerings that will leave you in awe and inspire you to explore the wonders of our planet. A lifetime holiday is by having the Best East Africa Safaris and Holiday Experiences.
Embark on this unforgettable safari expedition and create memories that will last a lifetime. Are you ready for the adventure of a lifetime? Join us in East Africa, and let your safari dreams come true!
Please Follow us on Facebook, and Youtube Channel for more amazing insights and tips.