6 Best Attractions in Samburu National Reserve
Nestled in the arid landscapes of northern Kenya, Samburu National Reserve beckons adventurous souls to explore its untouched beauty. While lesser-known than its more famous counterparts, Samburu is a hidden gem with a unique allure.
In this blog post, we will delve into the wonders of Samburu National Reserve and discover the treasures that make it a must-visit destination. Get ready to encounter the "Samburu Special Five" and experience a different side of Kenya's wildlife.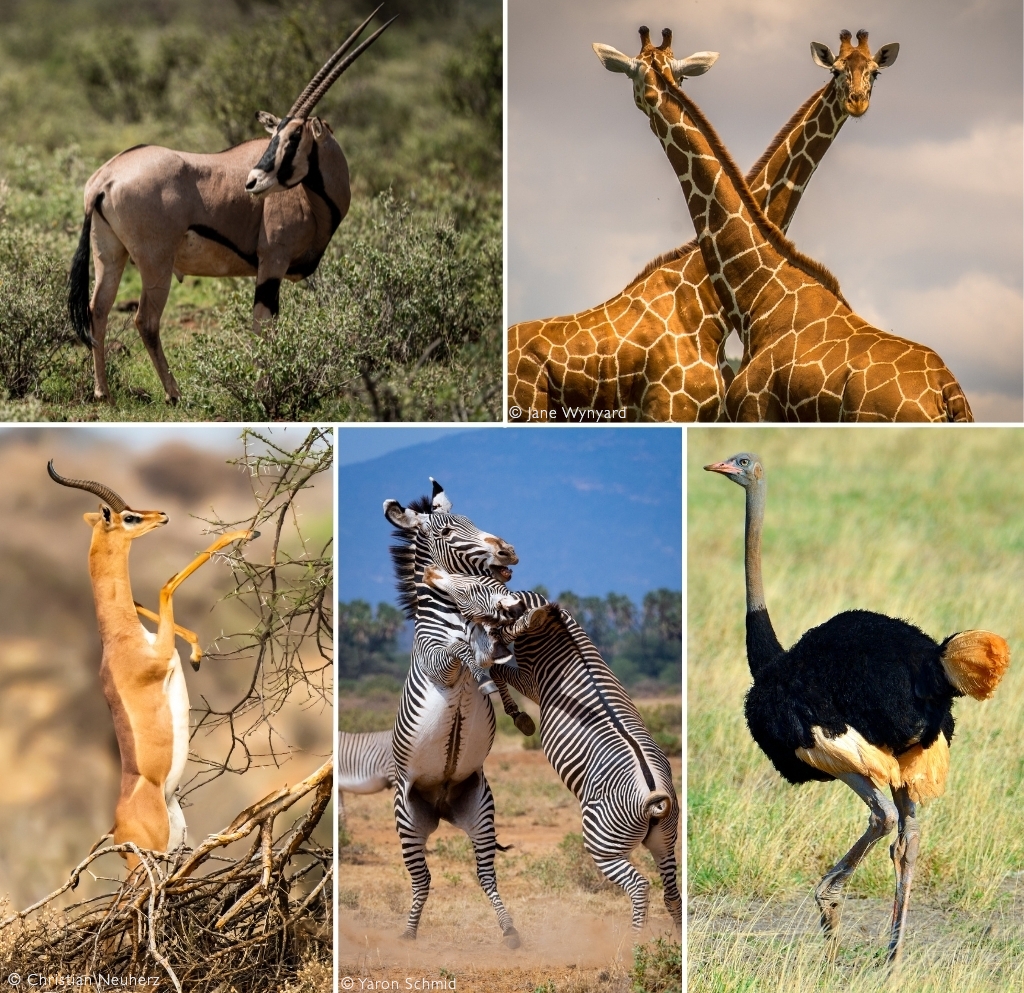 Samburu National Reserve: Unveiling 6 Hidden Gems of Northern Kenya
1.    Samburu Special Five:
Samburu National Reserve is renowned for its "Samburu Special Five," a group of rare and endemic wildlife species found in the region. These remarkable animals include the reticulated giraffe, Grevy's zebra, Somali ostrich, Beisa oryx, and the gerenuk.
Witnessing these unique creatures in their natural habitat is an extraordinary opportunity for wildlife enthusiasts. With its striking and intricate coat pattern, the reticulated giraffe gracefully roams the savannahs, while the Grevy's zebra captivates with its distinct bold stripes.
Spotting the elegant Somali ostrich, Beisa oryx, and gazelle-like gerenuk will add to the enchantment of your safari experience.
2.    Unparalleled Scenic Landscapes:
Samburu's landscapes are a sight to behold, characterized by its arid beauty and rugged terrain. The reserve is nestled between the Ewaso Nyiro River and the striking Mathews Range, creating a dramatic backdrop for your wildlife encounters.
The winding river serves as a lifeline for the reserve, attracting a diverse range of wildlife. The vast open plains dotted with acacia trees and rocky outcrops provide an ideal setting for both photography and intimate wildlife observations.
Prepare to be mesmerized by the unique blend of colors, textures, and contrasts that define Samburu's unparalleled scenery.
3.    Diverse Wildlife Encounters:
While the "Samburu Special Five" take the spotlight, the reserve is also home to a wealth of other wildlife species. Lions, leopards, elephants, buffalos, and crocodiles are among the many inhabitants that thrive in Samburu's ecosystem.
Keep your eyes peeled for the majestic African elephant herds as they traverse the dry landscapes in search of water. Samburu's birdlife is equally impressive, with over 450 species recorded, including the vibrant Von der Decken's hornbill and the strikingly colorful yellow-billed hornbill.
The diversity of wildlife ensures that every safari moment in Samburu is filled with awe and excitement.
4.    Cultural Encounters with the Samburu People:
Beyond the captivating wildlife, Samburu National Reserve offers an opportunity to engage with the local Samburu people and immerse yourself in their rich cultural heritage.
The Samburu are semi-nomadic pastoralists known for their vibrant attire, intricate beadwork, and traditional way of life. Interact with the local communities and gain insights into their customs, traditions, and unique way of coexisting with wildlife.
Visiting a Samburu village, witnessing traditional ceremonies, and learning about their ancient practices will add depth and authenticity to your safari experience.
5.    Night Game Drives and Stargazing:
Samburu National Reserve offers a unique opportunity for night game drives, allowing you to witness the nocturnal creatures that come to life after sunset.
Spot elusive predators such as leopards and hyenas as they embark on their nighttime hunts. Moreover, with limited light pollution in the area, Samburu provides excellent conditions for stargazing.
Marvel at the vast African night sky, dotted with countless stars, and let the tranquillity of the reserve envelop you.
6.    Adventurous Walking Safaris:
Samburu National Reserve presents an extraordinary chance to experience walking safaris in the company of expert guides.
Embark on a thrilling journey on foot, immersing yourself in the African wilderness's sights, sounds, and scents. Walking safaris allow for a deeper connection with nature as you witness the smaller details often missed during vehicle-based game drives.
Explore the diverse flora, encounter wildlife up close, and appreciate the untouched beauty of Samburu's landscapes. region's rich cultural heritage.
Conclusion 6 Best Attractions in Samburu National Reserve :
Samburu National Reserve in northern Kenya is a hidden gem that offers a distinctive safari experience. From encountering the "Samburu Special Five" and other diverse wildlife to immersing yourself in the arid and captivating landscapes, Samburu presents an off-the-beaten-path adventure for intrepid travelers.
Engage with the local Samburu people, witness their traditional way of life, and appreciate the rich cultural heritage of the region.
Explore the reserve on foot, experience thrilling night game drives, and venture to the Mathews Range for awe-inspiring views. Samburu National Reserve invites you to discover its lesser-known wonders and create memories that will last a lifetime.
Embark on a journey to Samburu National Reserve, and let this hidden gem reveal its secrets to you. Witness the unique wildlife, soak in the breathtaking landscapes, and create memories that will last a lifetime.
Samburu is waiting to captivate your heart and ignite your sense of adventure.
​Please Follow us on Facebook, and Youtube Channel for more amazing insights and tips